ARTERNAL April Roundup – Merge Contact and Reporting and more
We've been heads-down working on some new things these past few months and improving on older things-- and we're excited to update you on the new innovations at ARTERNAL
As we continue to see unprecedented changes in all facets of the art market and our lives, and with the demanding year of pandemic-driven programming, we've never been more committed to our mission:
To educate, innovate, and lead the digital transformation in the art world.
4 updates: More for you, more for your team 🎉
We've been heads-down working on some new things these past few months and improving on older things– and we're excited to update you on the latest in ARTERNAL:
1. Merge Contacts, now available for everyone
When you have different records of the same contact, it becomes difficult to track their correspondence over time. You may not want to delete the records as some of them might have data that you could use in the future even if they aren't active. You may occasionally wish to merge two existing contacts into ARTERNAL.

In such a situation, now you can choose to merge your duplicate contact profiles into one primary record that has the data from all the records merged. 🌞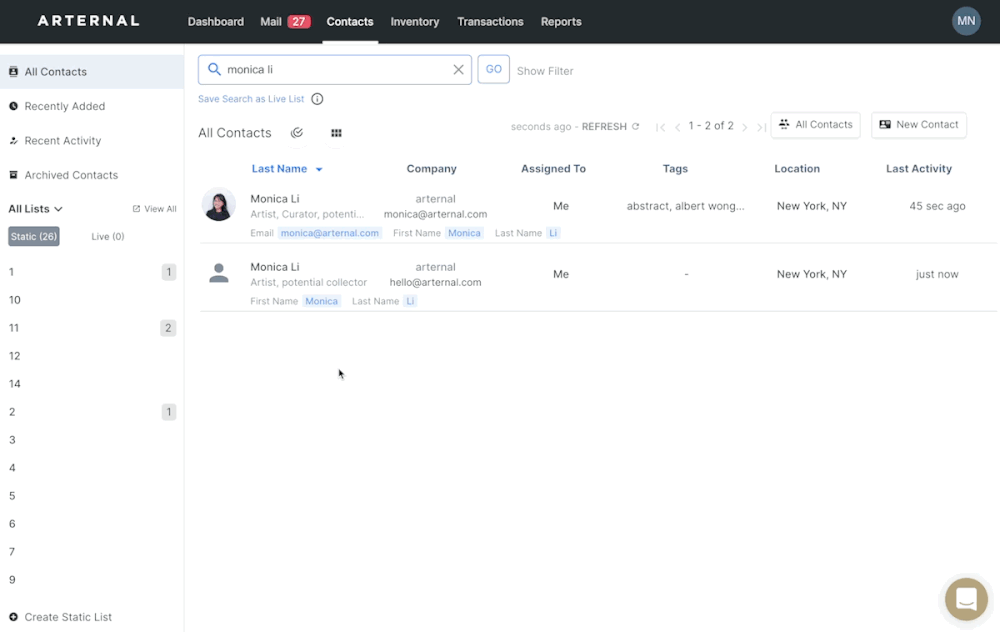 Click the above image to watch a video walkthrough
2. Move your business to action with Reporting🎉
What invoices are unpaid? Who are your most active relationships? Which artworks are on consignment? Who are your top sold artworks? What is your top-selling price point?

You can have a lot of questions about your business, your customers, and your daily business operations. Fortunately, earlier this year, we set out to help our customers answer these common questions in your ARTERNAL Reports.

Explore Reports to get detailed information about your business, including sales activity, contacts, and see in one place the best clients to spend your time with. You can now have the insights you need to grow – use Reporting to understand the operations of your business. Answers to most of the common questions about your business operations can be found in this section.
You get the following additional features at no additional cost:
Build custom dashboards and reports in seconds: ARTERNAL Custom Reports makes it easy to create custom reports to answer even your most complex questions by seamlessly connecting your Organization, Contacts, Artists, and transaction data alongside your Sales data. You can easily have the custom report builder make your practice even more powerful.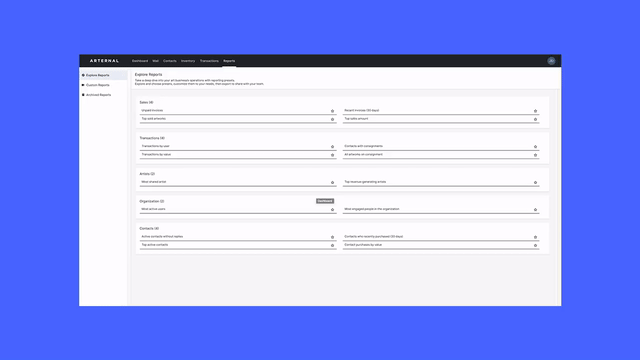 Click the above image to watch a video walkthrough
We're looking forward to seeing how you use ARTERNAL Reports to inform your business.
Stay up to date on the latest from ARTERNAL
3. Introducing Smart Replies
ARTERNAL now enables you to carry out bulk actions from a Smart Mail. You can use this to save time, personalize multiple Smart Mail templates, and send multiple Smart Mail reply types to clients. Learn more about how you can use Smart Replies to better your workflow by clicking the image below.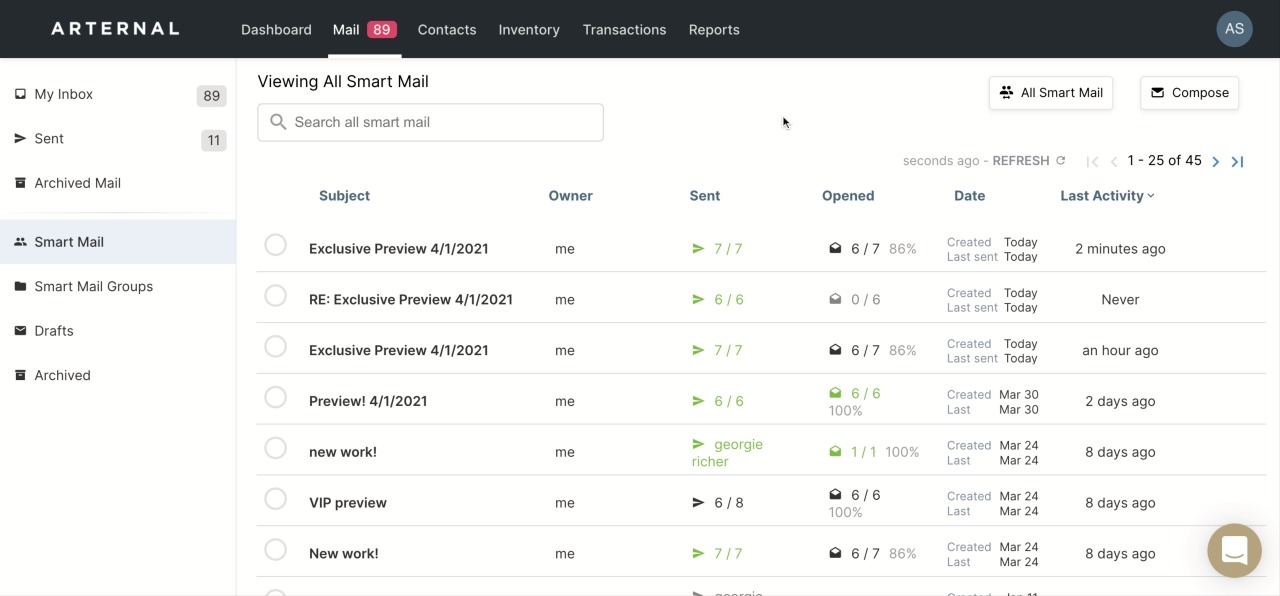 Click the above image to watch a video walkthrough
4. Automatically create payables 🌟
Manually adding a payable for 5 invoices may be feasible. But what about 50 or even 100? ARTERNAL now allows you to automatically create a payable once you pay an invoice. Use Automatic Payables to streamline your invoice process. Automate your invoice process, and put time back in your day.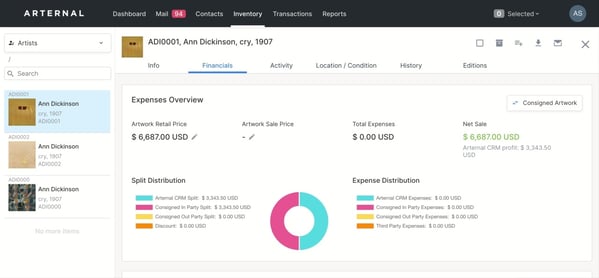 Click the above image to watch a video walkthrough
And there's one more thing
With so many of our clients relaying on ARTERNAL daily we've been making significant investments across the board:
People: We've hired more engineers dedicated to improving the stability and performance of ARTERNAL.
We've got work to do, but you can rest assured that performance, reliability, and security are our top priorities and focus. We're busy cooking up plans for ARTERNAL and we are excited to share some of these plans. Until then, we look forward to continuing to help you with your business.