Art, to an extent, has lost a dialogue with culture as it has become an increasingly lucrative financial asset. In the spirit of "artists giving back" artists are taking control of the art market and supporting creative initiatives, organizations or other artists.
This holiday season we wanted to highlight some of our favorite artists who give back to their communities and support philanthropic programs and causes. Many of these artists have experienced personal and financial hardships during their lives, and after achieving success, give back and support non-profits year-round.
Now, more than ever, let's take a page out of these artists' books and examine how art can inspire during challenging times.
Theaster Gates is a Chicago-based painter, sculptor, installation, and performance artist who is currently exhibiting at Gagosian Gallery in Chelsea. His work primarily focuses on themes of race and poverty in the US, as he seeks to improve impoverished communities throughout the country. He is widely exhibited, has been exhibited all over the world, and represented by blue-chip galleries internationally, and is featured in notable museum collections.
In 2010 he founded a nonprofit organization that focuses on neighborhood rehabilitation, community arts events, and fostering cultural communities in Chicago. The Rebuild Foundation's, programs have focused on regenerating Chicago's South Side by transforming abandoned buildings and creating centers for Black culture (Gagosian). His goal is to uplift these communities without displacing current residents or changing the cultural foundation of the community.
His philanthropic initiatives began in the community, in which he grew up and experienced its challenges first-hand, and has since expanded to other cities throughout the country (Smithsonian Magazine).
Mark Bradford is a Los Angeles-based artist whose work mainly highlights social and political issues. He is most well known for his large-scale abstract mix-media paintings, often created with found objects from the city. He also creates public art, installation, and video pieces. He has been exhibited internationally, is featured in top museum collections, and has received several prestigious awards including the MacArthur Fellowship in 2009 (Artsy).
In 2014 he founded a non-profit organization called Art + Practice. Based in the Leimert Park area of Los Angeles the organization has partnered with First Place for Youth to support the needs of 18-24-year-olds coming out of the foster system, while also offering a space to provide the community with access to free contemporary art and cultural programming celebrating artists of color. He also collaborates with major cultural institutions to bring their programming to the Leimert Park neighborhood (WashingtonPost).
Titus Kaphar
Titus Kaphar is a painter, sculptor, filmmaker, and installation artist based in New Haven, Connecticut who just exhibited at Gagosian Gallery in New York. His work focuses on confronting western history and examining its impact on the present, primarily on issues surrounding race and identity. His work is a part of many museum collections throughout the country and he's received several prestigious awards and grants, including the MacArthur Fellowship in 2018.
In 2019 he assembled a group of public and private donors to join him in founding NXTHVN pronounced "Next Haven". Their goal was to "build an alternative model of art mentorship and career advising through a specially designed curriculum, and to simultaneously set into motion significant opportunities for emerging local entrepreneurs". The program offers fellowships to local artists, curators, and high school apprentices of color.
The foundation is located in the primarily Black and low-income Dixwell neighborhood in New Haven. Titus explains that he intends his organization to be a type of "new haven" for artists and the community. (CBS News)
Vik Muniz is a Brazillian artist who splits his time between New York and Rio de Janeiro. He is a photographer, filmmaker, and mixed-media artist, most well known for repurposing everyday materials and recreating famous artworks. He has been exhibited internally and is featured in several notable museum collections (Artsy).
Amongst other philanthropic efforts, he founded a school in Rio de Janeiro called Escola Vidigal to teach local children in the low-income community about art and technology. In 2019 he also co-curated an exhibition to benefit Brazil's National Museum after it burned down in 2018.
In a Document Journal article, Vik explains the importance of giving back: "If you take that step and make that an example, you know, you may influence other people in more powerful positions to follow. If an artist can change the course of events of a specific situation, other people can do the same."
Dustin Yellin
Dustin Yellin is a New York-based artist primarily known for his sculptures made of layered glass panels. The panels are layered along with tiny images to create 3-dimensional photomontage images within the sculptures, which the artist refers to as "frozen cinema". His work has been exhibited in museums internationally.
Dustin himself dropped out of high school and didn't attend college so he wanted to create an open and democratic space where creatives, scientists, and thinkers could come together, without the limitations and elitism of traditional academic institutions (The Creative Independent).
In 2012 he founded Pioneer Works, a multidisciplinary cultural center in Red Hook, Brooklyn that brings together the arts and sciences, one of the first of its kind to bridge the two disciplines (Vanity Fair). It offers residencies to artists, scientists, and creative thinkers, while also featuring an education program and community enrichment events.
Stay up to date on the latest from ARTERNAL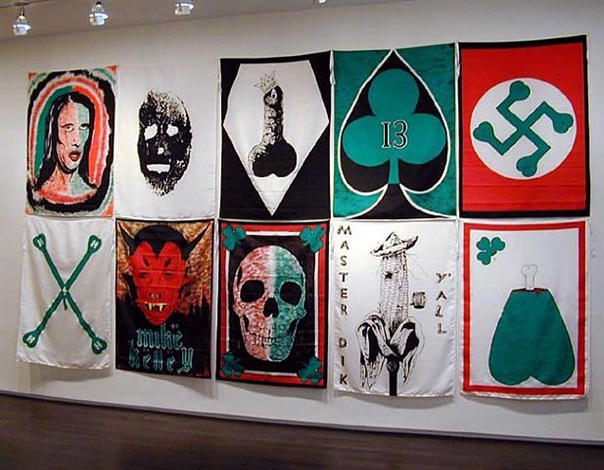 Mike Kelley was an the American conceptual artist who began working in the late 1970s. He suffered from depression throughout his life and died by sadly suicide in 2012. He's considered one of the most influential conceptual artists and he worked across a variety of media including installation, sculpture, drawing, painting, and film. His works are featured in prominent museum collections all over the world.
In 2007 he founded the Mike Kelley Foundation For The Arts which provided grants to artists and other creatives he felt were in line with his artist philosophy – they push boundaries and take artistic risks. Since his death, the foundation has expanded to preserve his legacy and aims to continue his philanthropic work on a broader scale. In 2015 the foundation launched the Artist Project Grants program, which has since supported over 36 artist projects with over $1.4 Million in grants.
This year, the foundation has demonstrated support for Artist Relief, an emergency initiative created by a group of mid-sized national art grantmakers to support artists who have been severely impacted by COVID-19.
Robert Longo
Robert Longo is an the internationally acclaimed New York-based artist is represented by Metro Pictures and currently showing at Deitch Gallery in Los Angeles. He has been working since the 1970s in a variety of media including drawing, photography, painting, sculpture, performance, and film. He is most well known for his large scale and incredibly detailed charcoal drawings, his work often focuses on political and social issues, and is featured in many major museums and private collections internationally.
Most of his work with direct political content includes donating 20% to specific political causes. For example when he sold the Death Star, he gave $250,000 to " Everytown " the anti-NRA gun lobbyists. He has been active with Doctors without Borders, Moon Birds International, Greenpeace, and Black Lives Matter.
This past spring, he was planning to hold a solo exhibition at Guild Hall, in East Hampton, NY, a cultural center in Long Island, that was postponed, because of COVID-19. In addition to his exhibition, the center also had to cancel their summer gala and auction which was a big financial blow to them. Longo then had the idea to host a benefit exhibition and worked with the organization's curator to gather a group of 60 artists to donate their artworks to the "All for the Hall" exhibition. The total amount of works donated reached $1 million in value and all proceeds benefit Guild Hall (The Art Newspaper).
The Executive Director of Guild Hall, Andrea Grover stated her appreciation for the large turnout of support in a whitewall article: "Artists have always been and always will be our greatest resource and inspiration. It is a demonstration of the power of the arts to ignite civic participation and the power of collective artistic action."
The exhibition will continue running through December 31st. Visitors can make appointments to visit and all works are available for purchase online.
Jamel Robinson
Jamel Robinson is a self-taught artist based in New York. He is an abstract painter, writer, sculptor, and performance artist. He began his career as a poet turned painter and has been exhibiting with galleries primarily in New York since 2011 in a range of group and solo shows. His paintings were featured on the popular TV show "BLACK-ish".
He donated 20% of the sales from his most recent solo show UNFETTERED at Established Gallery this past summer and from the Tulum Residency to the Food Bank For New York City. His gifts this year amounted to 12,500 meals. He encouraged viewers to make donations, even if they did not purchase his work. The organization hits close to home for Jamel who experienced food insecurity early on in his career.
In the spirit of giving back, the messages in his work involve love, as he explains "I feel this love, I share it, but it comes through me not necessarily from me. I believe when people react and respond to this work that what they are reacting to [is] God's love in the work. That's always my hope." (Art Hag)
Guy Stanley Philoche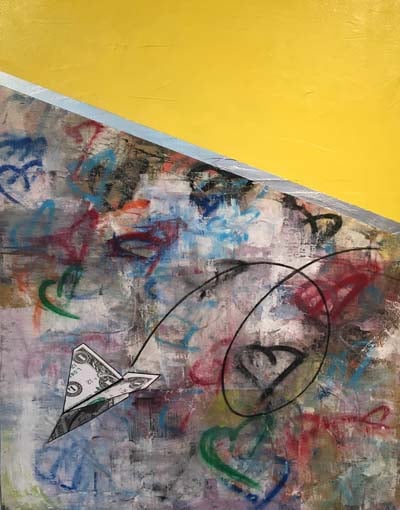 Guy Stanley Philoche is an abstract painter living in New York. He was born in Haiti and grew up in Connecticut. He started working in the late 1990s and has been exhibited throughout the US. His work is currently a part of many major corporate collections including Google and Merrill Lynch.
Earlier this year Guy had planned to purchase himself a Rolex watch after the success of a sold-out solo show. Once COVID-19 hit, he decided to put his money to better use. He began focusing on buying art and supporting local artists who had been devastated by the pandemic. He was able to inspire donations from his collectors and put a total of $60K towards helping local artists survive.
Before this latest initiative Guy has a history of giving back by supporting many charities over the years. Whenever he sells an artwork, he always purchases a work supporting another artist. When asked by People Magazine what inspired his mission to support local artists affected by COVID-19 he stated: "I just wanted to do my part. I really, really just wanted to do my part."
Conclusion
James Balden once said that "An artist is a sort of emotional or spiritual historian. His role is to make you realize the doom and glory of knowing who you are and what you are. He has to tell, because nobody else in the world can tell, what it is like to be alive. All I've ever wanted to do is tell that, I'm not trying to solve anybody's problems, not even my own. I'm just trying to outline what the problems are."
There is no doubt that artists with their gifts are the recorders, translators, and story-tellers of culture. All art is an expression of ourselves. It helps us appreciate moments that we experience together. Art finds its intrinsic value in culture beyond being an increasingly lucrative financial asset when it is the authentic expression of a deep human experience. Artists teach us, and inspire us and do so much for the art world. Shouldn't we take a page out of these artists' books and support them as their works support the art ecosystem now?
These are just 9 artists of many artists who practice the 'art of giving'. Wealthy collectors buy the artists works so artists can give this money to other artists. The unique combination of industry collectors buying works from artists and artists supporting other artists promotes a sustainable future, a new model, a new way of being that is committed to a vibrant future for the art marketplace.
As James Baldwin once put it, "You think your pain and your heartbreak are unprecedented in the history of the world, but then you read. It was Dostoevsky and Dickens who taught me the things that tormented me most were the very things that connected me with all the people who were alive, or whoever had been alive." This can be said for all forms of art that authentically expresses the human experience – we cannot take artists and their gifts for granted.
The future awaits those with the courage to create it. These artists have used their art as an expression to give back to their communities and support philanthropic programs and causes. Let us be inspired and take lessons from the people who make art possible and stand for a sustainable future.
You might also like these articles:
Interested in taking your gallery to the next level? Contact us today to learn more.