Art fairs are postponed, gallery exhibitions are on pause, and social distancing is now in full effect — how do you deepen the conversation and connection without face-to-face interaction?As the high-touch industry of the art world adjusts to working remotely, grabbing client interest digitally is of growing importance.
Many (as your inboxes may have seen) are turning to Online Viewing Rooms. However, amidst so many generalized emails inundating inboxes, standing out amongst the crowd to make clients feel special with personalized emails and tailored content provides the platform for a deal that might have otherwise been reliant on an in-person private viewing. By adding in an extra sentence like "here's some art I think you'll like from the last opening to take your mind off COVID-19"  or  "you must be ready to pull your hair out if the schools stay closed through April with the way Susie and John bicker"  shows your collectors you care —  and provide response rates to get conversations going and closer to a closed deal.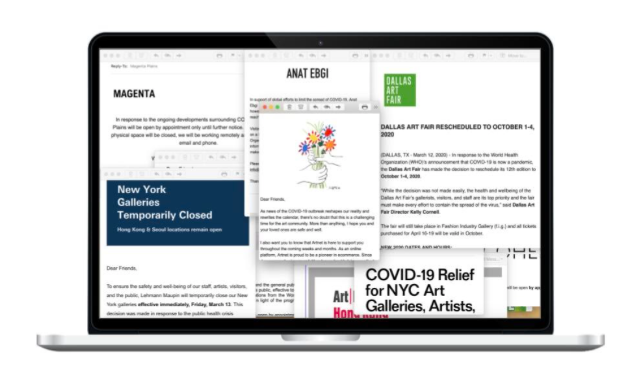 Taking a step further into leveraging digital, the ability to then track a client's engagement in your email is incredibly powerful. Knowing when to follow up with a conversation and what the client is interested in keeps the momentum in motion.
In addition, keeping staff informed within a unified platform becomes essential where all gallery communication can be viewed in unison from anywhere. There's nothing worse than a client receiving the same information from multiple staff — or, even more mortifying — a client receiving varying information about the same piece.
Interested in learning more or getting set up for your digital success amidst this crazy time?
Stay up to date on the latest from ARTERNAL