Want to Provide Bespoke Service for More Collectors? First, Galleries Need to Connect Using this Soft Skill
How galleries can use art tech to increase empathy in the art industry.
In 2015, Facebook introduced its Empathy Lab as an experiment to show that every single one of the company's billions of users matters. The lab devised new ways to allow people with disabilities to use the social media platform, thereby improving the user experience. The experiment created a lot of positive buzz, prompting many other tech companies to consider how they, too, might place themselves in the shoes of their consumers and employees to improve the user experience and company culture. A year later, so many tech companies had focused their attention on these things that the tech sector was deemed more empathetic than any other sector by the 2016 Empathy Global Index, first published in the Harvard Business Review.
Over the last five years, many other companies, sectors, and industries have worked toward becoming more empathetic. Pharma, travel and tourism, consumer goods, auto manufacturing—even the financial industry has prioritized empathy. You know which industry hasn't made it onto the list? The art industry.
How is this possible? After all, would our industry even exist if it weren't for all the artists whose work elicits empathetic responses from their audiences? For some people, a Vincent van Gogh canvas makes them tear up. For others, a visit to the Rothko Chapel conjures such strong emotions, some people say they are forever changed. Personally, I'll never forget Marina Abramović's performance piece "The Artist Is Present," in which the artist stared silently at each stranger who sat in front of her—a remarkably intimate, empathetic experience.
Yet while art often inspires empathy, the art industry has become synonymous with capitalism, greed, and exploitation. The global art market is valued over 67 billion dollars, but in 2017, the Artfinder Independent Art Market Report showed that artists themselves make very little money—many of them make less than $10,000 a year. The uber wealthy run the art world, and the market is opaque and uncomfortably patriarchal and colonialist, barring many people—especially people of color and women—from entry as successful artists or collectors. In other words, the user experience galleries are creating isn't working for the vast majority of people.
For our industry to thrive, it must focus on becoming more democratized, decreasing the barriers to entry, and making pricing of artworks more transparent. These things will require the industry to connect with a wider audience, using empathy as a roadmap. Similar to how the tech world is using technology to better the lives of their users, ArtTech provides an ecosystem of tools, data, and insights that can hone the industry's use of these soft skills.
Stay up to date on the latest from ARTERNAL
A Lens on Empathy
Although educators in the visual arts have been teaching empathy for over a decade, art industry professionals in galleries, museums, and auction houses haven't been paying attention. Even now, in the midst of a pandemic and with increased attention on America's systemic racial and economic injustice, a large portion of the art world remains cloistered in its own ivory tower. Some institutions have issued solidarity statements decrying racism, and many of them have pledged to increase diversity in the workplace. But most of their actions signal performative wokeness rather than a commitment to real change.
Empathy matters. Connection matters. Art has the power to bring us close, but the art industry isn't known for fostering opportunities that allow for the sort of authentic, sustained connections that guide real change.
In her book, The Future of Feeling: Building Empathy in a Tech-Obsessed World, Kaitlin Ugolick Phillips writes about how while social media undeniably helps people connect, it doesn't foster the sort of empathy needed for true human connection. She writes about how every fifth-grade student in a Chicago classroom had a cellphone. Some of the kids used an app called Musical.ly, which allowed them to make and share music videos starring themselves. But despite sharing these videos, the kids had problems actually talking to each other—they had learned to prioritize "quantity over quality."
Right now, COVID-19 has made more galleries, auction houses, and museums turn their attention toward online experiences and viewing rooms. But have they considered how to make these experiences more meaningful? Have they considered empathy at all?
Re-imagining a More Empathetic Art World
ArtTech can help galleries foster empathy and focus on creating meaningful connections between more diverse groups of people, and it allows gallerists to be more responsive to collectors. CRM tools and detailed customer databases let galleries track online events and collect information about the interests that are most important to the client, including whether they have children, their birthdate, even their photos. This information allows galleries to respond to collectors—and would-be collectors—with bespoke emails that recognize their interests. The CRM tools can also track when emails are opened, helping galleries better assess when to engage again with collectors. If an email is never opened, then the gallery knows to try again with an even more personal approach, such as a letter or a phone call.
And why stop with using only CRM tools and databases to foster greater empathy? In fact, let's take a cue from Silicon Valley. Today, a few tech behemoths, including Amazon, Google, and Ebay, are using virtual reality (VR) built by Praxis Labs to give employees the chance to walk in other people's shoes. Research shows that this approach can reduce bias, encourage more inclusive behaviors, increase empathy, and re-imagine work cultures.
The art world stands at the edge of ArtTech adoption. But we must ensure that the technology that drives this adoption must be guided by human concerns. It's not enough to simply practice performative wokeness. Art elicits strong emotional responses. The art industry must follow suit by using empathy to offer more bespoke services that reach a wider, more inclusive audience.
You might also like these articles: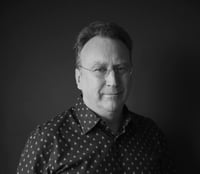 Steve Miller has been working at the intersection of business, art, science, and technology since 1980. Miller is a former commodities trader and the principal of Omega Commodities. Miller collaborated with the 2003 Nobel Laureate in Chemistry, Rod MacKinnon. He has worked at Brookhaven National Labs and at CERN in Geneva where he lectured to the Theory Group. At CERN, Miller understood the importance of data as a cultural paradigm shift which led him to co-found ARTERNAL. The art business lacked the technology and statistics that Miller discovered in advanced physics and new software was needed to drive the business of art. He brings his business experience, is an avid art collector and a practicing artist with over 50 international solo exhibitions.