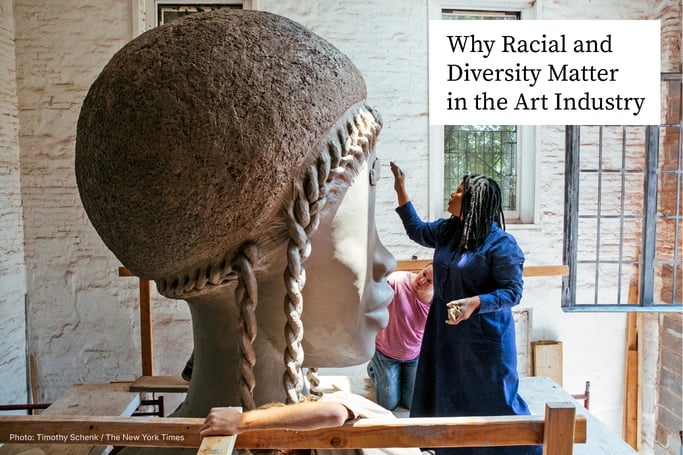 Art Basel's recent online viewing rooms in June presented 281 of the world's "leading modern and contemporary art galleries," not one of which is African- or Black-owned. This calls into question whether all 281 galleries are, in fact, the "leading" galleries and how much privilege played a part in their inclusion. According to a recent article in the New York Times written by Robin Pogrebin, minority-owned galleries experience "less access to capital, and exclusion from a rarefied network of connection that includes collectors, dealers, curators, critics and auction houses." At the Art Basel Fairs (Basel, Miami, and Hong Kong), women account for less than a quarter of the artists on view in the past four years. In addition, only 24% of artists at art fairs in 2018 were women.
The majority of private museums are owned by white men. This alone is a major factor in the underrepresentation of artists of color and women, with women of color being the most affected. A recent survey shows that in the permanent collections of top U.S. museums, 87% of the artists were white and 85% were male. In museums with budgets exceeding $15 million, women hold only 30% of the director positions and earn 75 cents for every dollar earned by male directors. A survey that collected data from more than 332 museums and 30,000 employees from 2015 to 2018 revealed that although there has been an increase in women in leadership roles in museums, an increase in people of color in those roles was significantly lower.
Similarly, galleries are owned primarily by white men. This may also contribute to the fact that although women earn half the MFAs in the U.S., only 30 percent of the artists shown in commercial galleries in New York are female. Furthermore, male artists earn more on average than female artists. Given the historical and well-documented greater disadvantages faced by minorities, one may assume greater disparities in the numbers for women of color.
The article, Glass Ceilings in the Art Market, shows that women are less likely than men to transition from the primary market into the secondary market. Artists of color face the same situation, which calls for greater awareness and effort in the art industry. In a webinar hosted by UNTITLED last month, The Importance of Black-Owned Galleries and Arts Spaces, gallery owner Richard Beavers tells the story of the celebration that his gallery held to honor the work of Nathaniel Mary Quinn being offered at auction. Moderator Donnamarie Baptiste of the webinar points out, "So many of the Black artists that are successful today are from Black-owned galleries that took a chance on them, and these galleries are overlooked in the industry." Emphasizing how Black-owned galleries cultivate talent and deserve not only recognition but support. Instead of purchasing art from the sole Black artist on a lengthy gallery roster, invest in businesses that nurture diverse programs and rosters beyond a performative or tokenized means.
In the internationally acclaimed book, "How to Be an Antiracist" by Ibram X. Kendi, Kendi examines the claim of "not being racist." He emphasizes how this signifies neutrality, "I am not racist, but neither am I aggressively against racism." He adds, "But there is no neutrality in the racism struggle, the opposite of 'racist' isn't 'not racist,' It is 'antiracist.'" This underrepresentation of women and people of color, both as artists, directors, curators and critics in the art industry, indicates an art world still plagued by segregation. Some believe the art market is shrinking when in fact it would be more vibrant and sustainable with the complexities of richness and diversity. Inclusion is not only what is fair – it is a lucrative business and allows to open the market and expand its audience. Such actions also promote a vibrant, healthy art market, enlivened by the creative talents and voices of all cultures.
Stay up to date on the latest from ARTERNAL